In July 2013, the Comparative Studies Department was proud to host the annual Summer Institute of MALCS: Mujeres Activas en Letras y Cambio Social (Women Active in Letters and Social Change). MALCS 2013 at OSU took as its theme "¡Aquí Estamos! We are Here! Movements, Migrations, Pilgrimage and Belonging" and featured over 60 panels and workshops featuring research on social and political movements, historic and contemporary migrations, cultural and economic pilgrimages and the current research in Chicana, Latina and Native American Studies as well as by Chicana, Latina and Native American scholars in STEAM fields. Scholars in a wide range of disciplines participated in the conference, including Philosophy, Literature, Sociology, Political Science, History, Education, Gender Studies, Religious Studies, Native American Studies, Optometry, Medicine, Art Education, Ecology and Marine Biology, Environment and Natural Sciences, Neuroscience and more. A number of community leaders involved in educational and cultural organizations also joined the conference.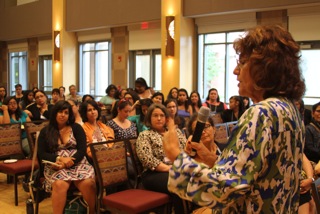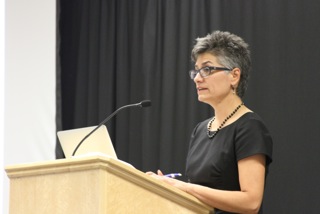 225 Registrants for Conference included 111 faculty and staff and 83 undergraduate and graduate students. 25% of registrants were from Ohio, while 75% were from twenty-four (24) U.S. states and three (3) countries.

In collaboration with LEON, Latino/a Empowerment and Outreach Network; 4L for Latinas; and the Latina Mentoring Academy, we hosted twenty (20) young women from Columbus K-12 Schools for a special conference day.

Local Community Advocates Honored at the Conference included Masami Smith, of the Native American Center of Central Ohio and Giannella Martinez of Centro Esperanza. Smith's speech on serving urban Indians was quite powerful, as was her Uncle's leading the entire gathering in song.

The three main plenary sessions sparked lively question and answer periods. The plenaries included

"On the Declaration of Rights and Indigenous Peoples" and featured Chief Glenna Wallace, Chief of the Eastern Shawnee Nation; Kimberly Blaeser, Poet and Professor at UW-Milwaukee; Egla Martinez, Professor at Carleton University.
"Latinas and Our Language(s): Belonging to/in Spanish? English? Spanglish?" by Professor Emerita Ana Celia Zentella, University of California, San Diego
"Chicana and Latina Activism in the Midwest" featuring Professor Lourdes Torres, De Paul University; Professor Lilia Fernandez, The Ohio State University; Alma Diaz Fisher, DreamActivistOHIO.org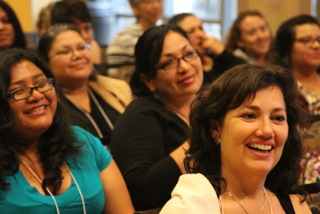 The conference had a significant national and regional impact in advancing interdisciplinary scholarship in Chicana, Latina and Native American Studies; supporting the work of Chicana, Latina and Native American emerging scholars in STEAM fields; building networks of scholars and students in these areas inclusive of OSU and Midwest region; enhancing OSU's reputation as a site for important research in these fields; and mentoring underrepresented K-12, undergraduate and graduate students.