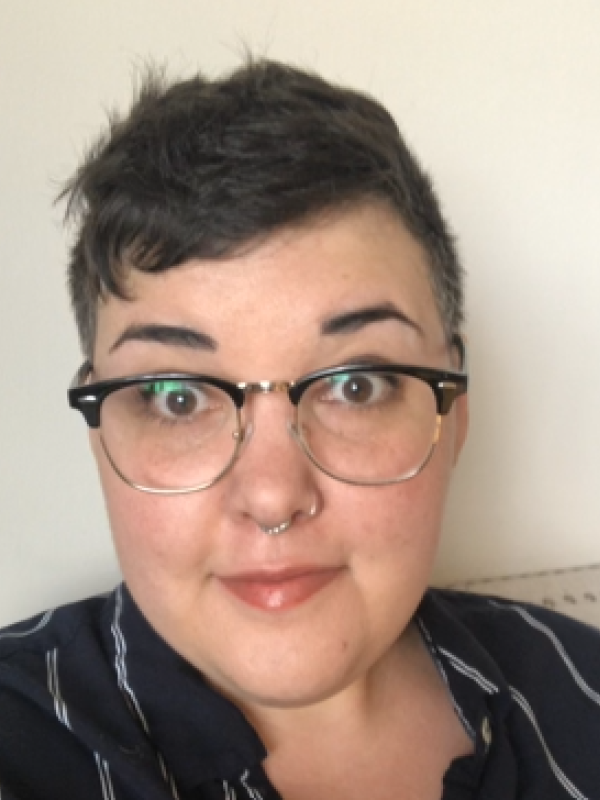 Liz McMurray
M.A. Student; IELP (ESOL) Senior Lecturer
They/Them/Theirs
Liz is currently a Senior Lecturer in OSU's Intercultural English Language Programs (formerly ESL Programs) and is joining the Comparative Studies Program as an MA student (with a potential interest in pursuing a PhD in the future!) under their faculty benefit. 
Their CS MA focus is in the following:  Peacemaking. That seeking avenues of compassion and nonviolence can prevent and resolve conflict wrought against the intersections of queerness (incl. transness and gender nonconformity) in a North American context in particular though not exclusively. Liz is interested in pursuring the following avenues of study in this pursuit- 
Religious and philosphical: cross-cultural theories and practices of compassion, nonviolence 
Political: NFP structure, social media algorithms, malfunction of legislatures (which originate from, perpetuate, and foster state and societal oppression and violence)  

dynamics of power and authority; questions of difference—racial, gender, sexual, class, ethnic, national—and the ways in which those categorizations inform and are informed by other discourses and practices  

Integrated/general/sociological/cultural: Nonviolence, improving people's lives by fostering peace and peaceful social structures (state and society), active listening and communication strategies, communication methods, facilitative conversation guidance, group dynamics, fostering compassion for others unlike you 
 Implementation: human interactions and changing of minds on the basis of compassion, empathy
They recognize the amount of learning they have in store with regards to historical and (leading to) contemporary systems of oppression in North America and the world. Any and all critiques and suggestions about the above are welcome! 
Additional Bio Info:
In Liz's current profession, they are particulary interested in navigating the language classroom as a space that allows expression in authentic voice (rather than as modeled and repeated "native" production). This is particulary important in light of the English language as a colonial and international language. They are always interested in hearing English Language user perspectives and input with regards to the teaching of English as an additional language (EAL, ESOL), since their field has rather problematic endemic practices which are challenging to navigate as an instructor. 
Liz is co-founder and editor of OSU's Translingual: The Journal of International Voices, which features artistic and academic work from OSU's international, multilingual, and multicultural community (UG and G students, faculty, and staff). Please check it out and submit! https://ielp.ehe.osu.edu/aewp/translingual/ 
Liz's undergraduate studies were in World Languages and Cultures. They studied Turkish, Arabic, and Spanish. They communicate at a high-intermediate level in Turkish and Spanish and would be delighted to chat with you and practice. 
Liz is a board member, community programming and volunteer coordinator of a local NFP, Westerville Queer Collective. Please join any and all WQC events in central Ohio to hang out in queer spaces. 
Please contact them if you'd like to introduce yourself. They are always looking for good reads and discussions, so please share!