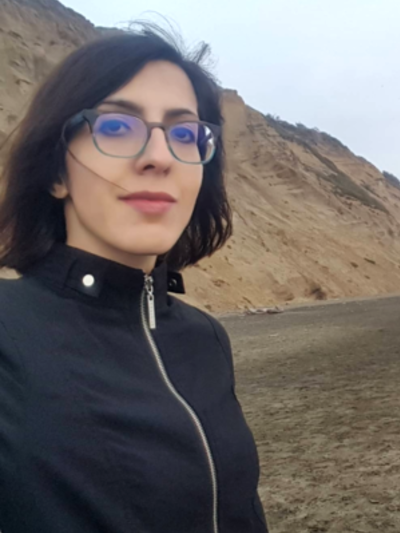 Afsaneh Rezaei
Ph.D. Candidate and Graduate Teaching Associate
476 Hagerty Hall
1775 S. College Road
Columbus, OH
43210
Office Hours
Tue-Thr 4:00-5:00pm
Areas of Expertise
Folklore
Anthropology of the Middle East
Vernacular Religion
Education
B.A. in English Literature, Ferdowsi University of Mashhad, Iran
M.A. in Folk Studies, Western Kentucky University
Afsaneh Rezaei is a PhD Candidate in Comparative Studies concentrating in Folklore. Afsaneh specializes in Iranian contemporary culture, and is interested in the intersection of folklife, gender, religion, and politics. She has done research on a range of topics including political humor in social media, women's vernacular religious rituals, and dynamics of agency in women's shared performances and personal narratives. 
Research Interests
Folklore and New Media
Feminist Folklore/Anthropology
Vernacular Religion
Anthropology of the Middle East
Postcolonial Studies
Narrative Theory
Publications
"The Superman in a Turban: Political Jokes in the Iranian Social Media," New Directions in Folklore 14 (1/2): 89-132, 2017.
Selected Presentations
"Navigating the Halfie Position: Fieldwork with Iranian Faith Communities in the US" Middle East Studies Association, November 2018
"The Ritual Fusion: Iranian-American Women's Faith-based Gatherings in Los Angeles" Western States Folklore Society, April 2018
Invited Presidential Panel: "Her-Story II: A Feminism and Folklore Retrospective," and "Teaching Folklore at the Age of Trump." American Folklore Society, October 2017.
"Codes of Conduct and Negotiation of Community in the Iranian Domestic Rowze." Middle East Studies Association, November 2016.
"'Sepandar-what?' The Revival of the Ancient Persian Celebration of 'Day of Love'" OSU/IU Student Conference in Folklore and Ethnomusicology, April 2016.       
"'My Stealthy Freedom': Gender, Power, and Repositioning of the Self in Women's Narratives of Public Unveiling in Iran." American Folklore Society, CA, October 2015.
"Inverted Religious Orders and Hierarchies in Two Iranian Muslim Women's Rituals." American Folklore Society, October 2013.
Selected Awards
Don Yoder Prize for Best Graduate Paper in Folk Belief or Religious Folklife, American Folklore Society, 2019
Coca-Cola Critical Difference for Women Graduate Studies Grant for Research on Women, Gender, and Gender Equity, OSU Critical Difference for Women Program, 2017-18.
Post-candidacy Fellowship, OSU Center for Folklore Studies, 2017-18.
Polly Stewart Travel Award for emerging scholars of women's folklore, gender issues in folklore, and/or feminist approaches to the study of folklore, American Folklore Society's Women's Section, 2016.
Third Annual Bill Ellis Prize for Best Graduate Student Essay in Folklore and New Media, American Folklore Society's New Directions in Folklore Section, 2014.
Collaborating Departments/Programs: Center for Folklore Studies