Image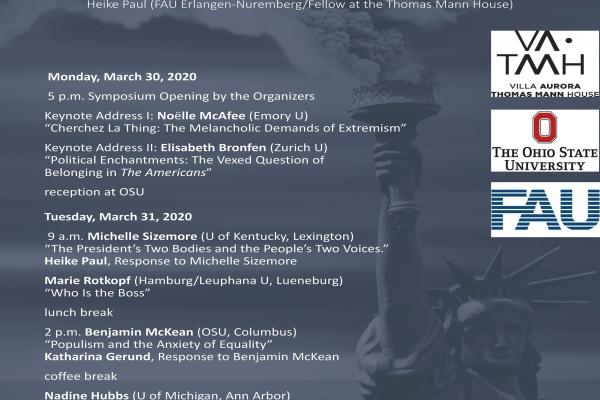 March 30 - March 31, 2020
5:00PM - 2:00PM
Location
River Den, Drake Performance Center
Date Range
Add to Calendar
2020-03-30 17:00:00
2020-03-31 14:00:00
CANCELLED: (Dis)Enchanted Democracy: Transatlantic Perspectives on Cultural Imaginaries of Order and Belonging Symposium
Organized by Barry Shank (OSU), Nikolai Blaumer (Thomas Mann House), and Heike Paul (FAU and 2020 Fellow at the Thomas Mann House). This symposium takes up the broad notion of "enchantment" and "disenchantment" (referencing both, affective and spiritual aspects) with regard to the present moment in which we are assessing the state of democratic orders in cultural imaginaries on both sides of the Atlantic with a view to scenarios of crisis/loss and relief/repair. Turning to the "political unconscious" (cf. Jameson's term in MacAfee) as well as to the cultural work of representations and cultural practices, we are questioning some of the dichotomies structuring current discussions, among them that of cosmopolitan cities vs. the "heartland." We are also paying close attention to phenomena of "public feeling" as expression of individual and collective emotional repertoires, culture-specific "feeling rules" (Hochschild), and as characterized by implicit regimes of emotional habitus (Bourdieu, Gould) in order to further complicate influential notions of a 'rational' public sphere or and of an enlightenment discourse having 'produced' liberal democracy. Over two days, our symposium will gather speakers from the US and Germany to address democratic culture and its discontent in the present moment (which often reveals itself in expressions of emotion and affect, such as anger, mourning, resentment, indignation, and rage); to historicize the role of affect and feeling in the history of Western democracies; and to develop new perspectives on questions of inclusion and exclusion in social, political, and cultural imaginaries. In times of strained 'official' transatlantic relations and right-wing populist successes on both sides of the Atlantic, this symposium seeks to identify common ground and shared concerns in working through the current moment of crisis. Speakers include: Noelle McAfee, Emory University; Elizabeth Bronfen, Zurich University; Michelle Sizemore, University of Kentucky; Heike Paul, Erlangen-Nuremberg; Marie Rotkopf, Leuphana University Lüneburg; Benjamin McKean, Ohio State University; Katharina Gerund, Erlangen-Nuremberg; Nadine Hubbs, University of Michigan; Barry Shank, Ohio State University Schedule of the symposium: Monday, March 30, 2020 5 pm Symposium Opening by the Organizers Keynode Address I: Noelle McAfee (Emory U) "Cherchez La Thing: The Melancholic Demands of Extremism" Keynote Address II: Elisabeth Bronfen (Zurich U) "Political Enchantments: The Vexed Question of Beloning in the Americans" Reception at OSU Tuesday, March 31, 2020 9 am - Michelle Sizemore (U of Kentucky, Lexington) "The President's Two Bodies and the People's Two Voices" Heike Paul, Response to Michelle Sizemore Marie Rotkopf (Hamburg/Leuphana U, Lueneburg) "Who is the Boss" Lunch Break 2 pm - Benjamin McKean (OSU, Columbus) "Populism and the Anxiety of Equality" Katharina Gerund, Response to Benjamin McKean Coffee Break Nadine Hubbs (U of Michigan, Ann Arbor) "What if this Machine Really Does Kill Fascists? Reckoning with Music's Political Power" Barry Shank, Response to Nadine Hubbs Final discussion and wrap-up
River Den, Drake Performance Center
OSU ASC Drupal 8
ascwebservices@osu.edu
America/New_York
public
Date Range
Add to Calendar
2020-03-30 17:00:00
2020-03-31 14:00:00
CANCELLED: (Dis)Enchanted Democracy: Transatlantic Perspectives on Cultural Imaginaries of Order and Belonging Symposium
Organized by Barry Shank (OSU), Nikolai Blaumer (Thomas Mann House), and Heike Paul (FAU and 2020 Fellow at the Thomas Mann House). This symposium takes up the broad notion of "enchantment" and "disenchantment" (referencing both, affective and spiritual aspects) with regard to the present moment in which we are assessing the state of democratic orders in cultural imaginaries on both sides of the Atlantic with a view to scenarios of crisis/loss and relief/repair. Turning to the "political unconscious" (cf. Jameson's term in MacAfee) as well as to the cultural work of representations and cultural practices, we are questioning some of the dichotomies structuring current discussions, among them that of cosmopolitan cities vs. the "heartland." We are also paying close attention to phenomena of "public feeling" as expression of individual and collective emotional repertoires, culture-specific "feeling rules" (Hochschild), and as characterized by implicit regimes of emotional habitus (Bourdieu, Gould) in order to further complicate influential notions of a 'rational' public sphere or and of an enlightenment discourse having 'produced' liberal democracy. Over two days, our symposium will gather speakers from the US and Germany to address democratic culture and its discontent in the present moment (which often reveals itself in expressions of emotion and affect, such as anger, mourning, resentment, indignation, and rage); to historicize the role of affect and feeling in the history of Western democracies; and to develop new perspectives on questions of inclusion and exclusion in social, political, and cultural imaginaries. In times of strained 'official' transatlantic relations and right-wing populist successes on both sides of the Atlantic, this symposium seeks to identify common ground and shared concerns in working through the current moment of crisis. Speakers include: Noelle McAfee, Emory University; Elizabeth Bronfen, Zurich University; Michelle Sizemore, University of Kentucky; Heike Paul, Erlangen-Nuremberg; Marie Rotkopf, Leuphana University Lüneburg; Benjamin McKean, Ohio State University; Katharina Gerund, Erlangen-Nuremberg; Nadine Hubbs, University of Michigan; Barry Shank, Ohio State University Schedule of the symposium: Monday, March 30, 2020 5 pm Symposium Opening by the Organizers Keynode Address I: Noelle McAfee (Emory U) "Cherchez La Thing: The Melancholic Demands of Extremism" Keynote Address II: Elisabeth Bronfen (Zurich U) "Political Enchantments: The Vexed Question of Beloning in the Americans" Reception at OSU Tuesday, March 31, 2020 9 am - Michelle Sizemore (U of Kentucky, Lexington) "The President's Two Bodies and the People's Two Voices" Heike Paul, Response to Michelle Sizemore Marie Rotkopf (Hamburg/Leuphana U, Lueneburg) "Who is the Boss" Lunch Break 2 pm - Benjamin McKean (OSU, Columbus) "Populism and the Anxiety of Equality" Katharina Gerund, Response to Benjamin McKean Coffee Break Nadine Hubbs (U of Michigan, Ann Arbor) "What if this Machine Really Does Kill Fascists? Reckoning with Music's Political Power" Barry Shank, Response to Nadine Hubbs Final discussion and wrap-up
River Den, Drake Performance Center
Department of Comparative Studies
compstudies@osu.edu
America/New_York
public
Description
Organized by Barry Shank (OSU), Nikolai Blaumer (Thomas Mann House), and Heike Paul (FAU and 2020 Fellow at the Thomas Mann House).
This symposium takes up the broad notion of "enchantment" and "disenchantment" (referencing both, affective and spiritual aspects) with regard to the present moment in which we are assessing the state of democratic orders in cultural imaginaries on both sides of the Atlantic with a view to scenarios of crisis/loss and relief/repair. Turning to the "political unconscious" (cf. Jameson's term in MacAfee) as well as to the cultural work of representations and cultural practices, we are questioning some of the dichotomies structuring current discussions, among them that of cosmopolitan cities vs. the "heartland." We are also paying close attention to phenomena of "public feeling" as expression of individual and collective emotional repertoires, culture-specific "feeling rules" (Hochschild), and as characterized by implicit regimes of emotional habitus (Bourdieu, Gould) in order to further complicate influential notions of a 'rational' public sphere or and of an enlightenment discourse having 'produced' liberal democracy.
Over two days, our symposium will gather speakers from the US and Germany to address democratic culture and its discontent in the present moment (which often reveals itself in expressions of emotion and affect, such as anger, mourning, resentment, indignation, and rage); to historicize the role of affect and feeling in the history of Western democracies; and to develop new perspectives on questions of inclusion and exclusion in social, political, and cultural imaginaries. In times of strained 'official' transatlantic relations and right-wing populist successes on both sides of the Atlantic, this symposium seeks to identify common ground and shared concerns in working through the current moment of crisis.
Speakers include: Noelle McAfee, Emory University; Elizabeth Bronfen, Zurich University; Michelle Sizemore, University of Kentucky; Heike Paul, Erlangen-Nuremberg; Marie Rotkopf, Leuphana University Lüneburg; Benjamin McKean, Ohio State University; Katharina Gerund, Erlangen-Nuremberg; Nadine Hubbs, University of Michigan; Barry Shank, Ohio State University
Schedule of the symposium:
Monday, March 30, 2020
5 pm Symposium Opening by the Organizers
Keynode Address I: Noelle McAfee (Emory U)

"Cherchez La Thing: The Melancholic Demands of Extremism"

Keynote Address II: Elisabeth Bronfen (Zurich U)

"Political Enchantments: The Vexed Question of Beloning in the Americans"

Reception at OSU
Tuesday, March 31, 2020
9 am - Michelle Sizemore (U of Kentucky, Lexington)

"The President's Two Bodies and the People's Two Voices"

Heike Paul, Response to Michelle Sizemore
Marie Rotkopf (Hamburg/Leuphana U, Lueneburg)
Lunch Break
2 pm - Benjamin McKean (OSU, Columbus)

"Populism and the Anxiety of Equality"

Katharina Gerund, Response to Benjamin McKean
Coffee Break
Nadine Hubbs (U of Michigan, Ann Arbor)

"What if this Machine Really Does Kill Fascists? Reckoning with Music's Political Power"

Barry Shank, Response to Nadine Hubbs
Final discussion and wrap-up
---