April 25, 2019
Comparative Studies Department Awards Ceremony 2019
Image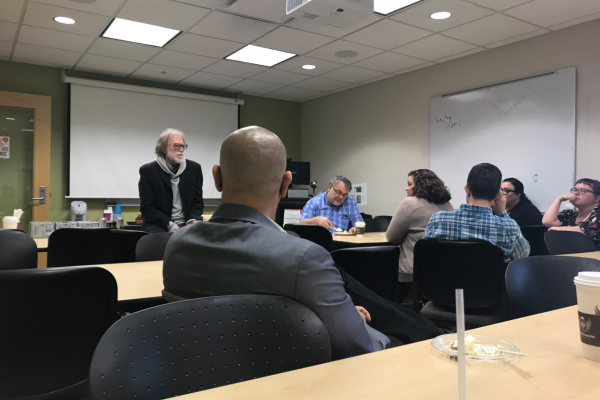 Description
On Wednesday, April 24th, we held our annual departmental awards ceremony celebrating all of the incredible work our faculty, lecturers, and students have done in the past year.
We continue to exemplify interdisciplinary work. We continue to maintain the importance of work that reaches the larger public as well as academic specialists. We continue to model cross-departmental collaboration, with leadership of several centers coming from our faculty.
Awards
The Graduate Student Service Award, for Service to the Department and its Students goes to Emma Cobb.
Emma worked throughout the year as student rep to the graduate studies committee—an extensive commitment, but she did even more than that.
In her nominating statement, Moriah Flagler wrote:
"Emma took on a major leadership role in the Be the Street project, thinking through large questions with me around ethics and sustainability in our work. She also set the groundwork for a community counsel we are looking forward to starting in the fall.  Her expertise, energy, and commitment to the project has been invaluable and I am grateful to work with her."
The honorable mention for the Marilyn Waldman Award for the best paper by an undergraduate this year goes to Emily Engel for her excellent undergraduate essay titled "All the World's a Stage: The Power of Representing and Recontextualizing Violence in Grieslda Gamabaro's Information for Foreigners".
The Marilyn Waldman Award for the best paper by an undergraduate this year goes to Andrea Gutmann Fuentes, for her truly outstanding honors thesis, "Language of the Land: The Politics of Mapudungun Language Death and Revitalization in Chile".
This essay addresses the tension between state-sponsored efforts to respect and celebrate Mapuche language and culture in Chile and the insistence of the same state on supporting neoliberal land and business policies that functionally destroy the Mapuche way of life.
The honorable mention for the Richard Bjornson Award this year goes to Dan DiPiero for his essay, "Improvisation as Contingent Encounter", which was published this year in Critical Studies in Improvisation.
Dan takes the risk of defining improvisation, something the entire field of critical improvisation studies had explicitly refused to do previously.
And the winner of the Richard Bjornson Prize this year is Sarah Craycraft for her essay "The Mule as Motif in the Ohio Valley Research Project".
In the words of her nominator, Dorry Noyes, "This is just what a seminar paper can do but rarely does: test new material against an established scholarly conversation and find a new insight".
This year's Margaret Lynd Award for Excellence in Teaching by a Graduate Teaching Associate goes to Caroline Toy for her outstanding work in writing instruction, in integrating fan studies into her courses, and for her interest in exploring online education.
Student evaluations mention the "clarity" of her explanations, how she has the student's "best interest" in mind, how much she "cares". Her willingness to try new pedagogical approaches epitomizes the attention to detail and care for student learning that we hold ourselves to.
This year's Margaret Lynd Award for Excellence in Teaching by a Lecturer goes to Rick Livingston. This year, Rick stepped up for the department in two major ways. First, he developed an entirely new course around his interest in Food Studies and saw that course through the curricular approval process. He taught it for the first time this spring. Second, he helped us out this spring when we really needed it by taking on a second course when we needed an instructor for Intro to World Literatures.
Finally, the Margaret Lynd Award for Excellence in teaching by a Tenure Line Faculty Member goes to Philip Armstrong.
Nominated by graduate and undergraduates alike for his caring, individual approach to their learning and supported by comments from the discursive evaluations from his courses, where students from 1100 to 6390 praise his ability to make complex concepts comprehensible in a large lectures and graduate seminars.
---