November 3, 2021
Comparison: What Is It Good For?
Image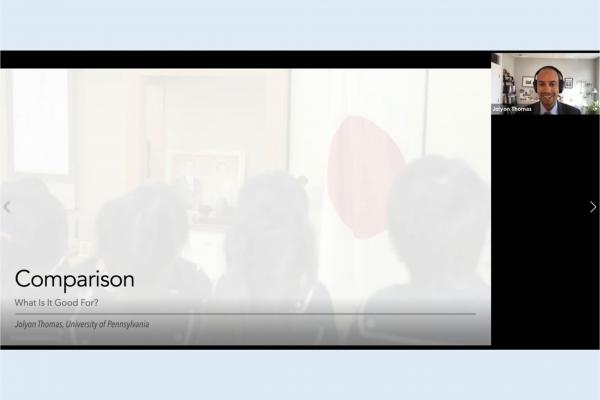 Description
Last month, Dr. Jolyon Thomas of the Department of Religious Studies at the University of Pennsylvania kicked off our Department's Autumn 2021 Comparative Studies "Comparison" Workshops. The workshop is part of Dr. Kwaku Korang's COMPSTD 6100 Critical Foundations course on comparative analysis.
Dr. Melissa Curley began by introducing Jolyon, sharing that within her area of study, he has "really earned a well-deserved reputation as a great advocate for graduate students,… a true mentor to graduate students within Japanese religion, as they make the move from the university into the job market and into their careers. And so, I feel especially glad and grateful that he is visiting our seminar today!"
Prefaced with a confession that he is not sure that he would call his method "comparison," Jolyon framed his study of Japan and the United States more so in terms of juxtaposition, stating that the notion of "'comparative religion' has fallen slightly out of favor" within his home discipline of religious studies. Comparison, as such, has the ability to "both include and exclude with devastating effect," as to do so provides a space for creating hierarchies and exclusions between and among that which is being compared. These tensions, as Jolyon demonstrated, are rendered visible when comparing maps and divisions based on religion.
After discussing the process of writing and revising his books, Faking Liberties and Difficult Subjects, and then his ongoing work on promissory talk, Jolyon fielded a series of questions from those in 6100, as well as others who Zoomed into the session. The discussion covered issues with comparison as a method; what it means to cross borders and boundaries; macro and micro scales when understanding religious freedoms; and forms of engagement in themselves as comparative work.
For those who are interested in attending our next "Comparison" talk with Dr. John Paul Ricco on Friday, November 12th, from 3:40-5:05pm, please visit this link to register. And visit this link to learn more about all of our speakers for this semester's workshops.
---