August 23, 2023
Congratulations, Dr. Ahmadi!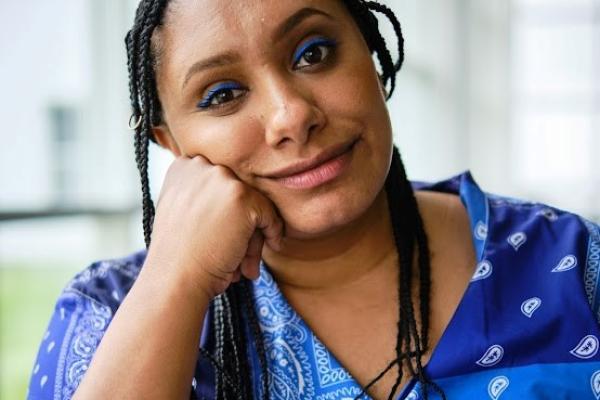 As the autumn 2023 term was coming into focus, summer 2023 here in the Department wrapped up with the successful defense of and congratulations bestowed upon our newest graduate, Dr. Parisa Ahmadi.
Dr. Ahmadi's dissertation theorizes the concept of enchantment, articulating it as an orientation towards affects, embodied experiences, and material cultures. Enchantment confuses distinctions between space and time, sentiment and sensation, dull and vibrant matter, and limitation and possibility. A potent energizing force, it is capable of materializing grotesque and fantastical representations of racialized subjects and sustained investment in consumer practices that are never satisfied. Yet enchantment encourages life-giving possibilities expressed through creative practice and expression, demonstrating how imagination and fantasy allow the formation of new and more expansive worlds where marginalized peoples can thrive. Yet even while engaging in liberative artistic praxis, subjects must often negotiate dominant capitalist and colonial logics that inform the materials and practices of their world-making. As a final component of her research, Dr. Ahmadi created an installation that enabled her to theorize the limitations and possibilities of enchanted world-making in real time.  
In reflecting upon her time here, Dr. Ahmadi shared the following sentiments:
Much gratitude to Dr. Maurice Stevens who has been an incredible support since the beginning of my graduate program. Maurice believed in me, supported me, pushed me, and facilitated my arrival to the completion of this work. My gratitude to Dr. Ashely Hope Pérez who took seriously my creative practice early and encouraged me to push theory into practice. Many thanks to Dr. Dorothy Noyes who was an incredible committee member, always offering excellent connections to my work and reminding me of the exciting world of thick description and analysis. Thanks to Dr. Philip Armstrong who had my back from the very beginning to the end. My appreciation to Dr. Noah Tamarkin, Dr. Franco Barchiesi, Dr. Miranda Martinez, Dr. Melissa Curley, Dr. David Horn, Dr. Hugh Urban, Dr. Barry Shank, and Dr. John Brooks whose conversations and mentorship had a large impact on this dissertation. Thanks to Rob Barry, who helped me theorize, celebrated me, and pushed me towards important opportunities. Thanks to Umut Gurses for all our wonderful walks and conversations. Thanks to Rhiar Kanouse for her incredible love and support. To all faculty, friends, family, and mentors who have shown encouragement and love on this journey! 
---