April 21, 2021
Congratulations to Parisa Ahmadi for Receiving an Honorable Mention for Outstanding Writing Instruction
Image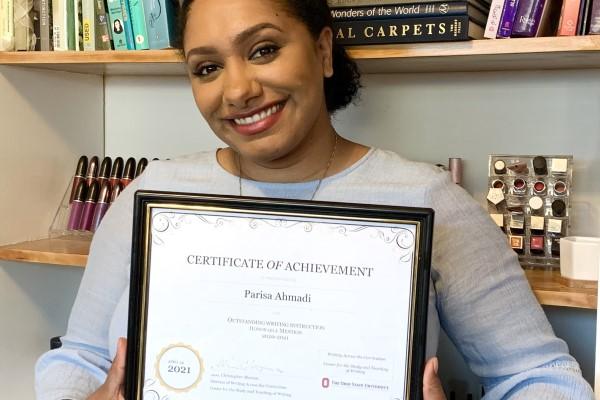 Description
Last week, Parisa Ahmadi was selected for an honorable mention in the award for Outstanding Writing Instruction by the Writing Across the Curriculum team. In their announcement of the award, the team found Parisa's "intentional encouragement for [her] students to build community through writing an important and valuable element of [her] teaching." They also cited her ability to help students feel confident about their own individual writing styles, as well as her adaptation to online instruction during the pandemic. 
In reflection upon her award, Parisa shared that she almost did not apply, but she was encouraged by the support of her professors to continue putting herself out there. She adds: "I am so grateful to my students for teaching me to be a better instructor, for my advisor Dr. Ashley Hope Pérez for her encouragement and support, and for Dr. David Horn and Dr. Noah Tamarkin for modeling great instruction in the field of STS."
Please join us in congratulating Parisa and her ongoing work!
---