October 26, 2021
Dr. Jasmine Stork Begins Fulbright Journey in Poland
Image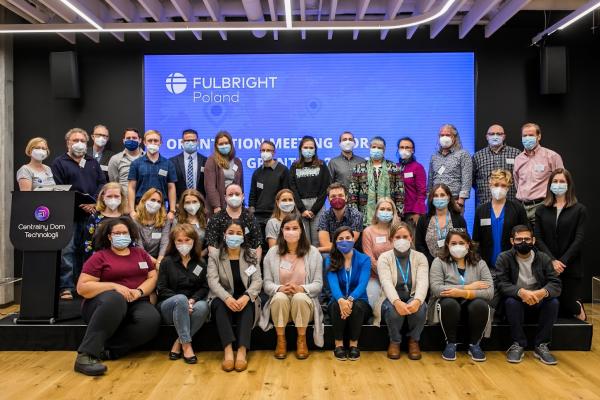 Description
Dr. Jasmine Stork recently began her Fulbright year in Poland with an orientation meeting in Warsaw at Central Technology Hub. Jasmine is one of 30 American Fulbrighters in this year's cohort, all of whom participated in various workshops and sessions that included learning about higher education in Poland and the importance of diversity, equity, and inclusion. (Many of the photos in this post's gallery are of Jasmine taking part in a cooking class, where she and her colleagues made pierogi and other gastronomic foodfare.) Click here to learn more about the orientation meeting and here to learn more about the Fulbright program.
Jasmine successfully defended her dissertation, "Asexuality in Avengers Fanfiction: A Mixed-Methods Folklore Study," this past July. As her advisor Dr. Amy Shuman shared with the department: 
This innovative study uses a folklore lens to integrate surveys and interviews with fans, fans' discussions of asexuality, and implications for public health.  Jasmine did an MS in Public Health at OSU during her doctoral work.  As Jasmine argues, it would make a huge difference if health practitioners would pay attention to what people do and say regarding asexuality. Her committee included Amy Shuman, advisor, Miranda Martinez, co-advisor, Merrill Kaplan, and Gail Kaye (from Public Health).  The outside examiner was Scott Graves, a professor of school psychology in the College of Education.  Jasmine has a Fulbright Fellowship in Poland for the coming year. Many congratulations!
Photos by Anna Liminowicz for Fulbright Poland
---