December 4, 2019
Grad students take part in Livable Futures-funded teaching cluster
Image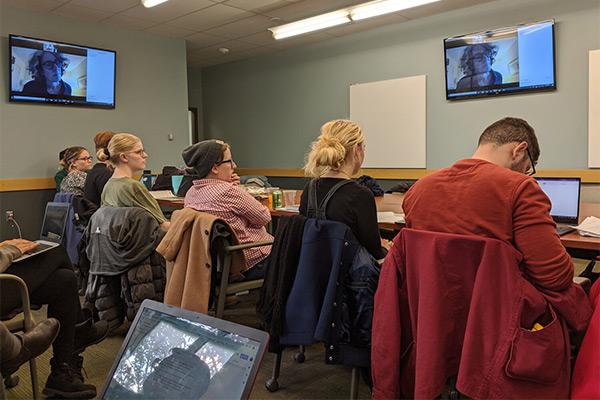 Description
Graduate students from the departments of Comparative Studies and Women's, Gender & Sexuality Studies took part in a teaching cluster funded by the Livable Futures network.
In this combined seminar meeting, taught by Professors Noah Tamarkin (Comparative Studies) and Mary Thomas (Women's, Gender & Sexuality Studies) students participated in a video chat with Dr. Julie Livingston, the author of Self-Devouring Growth: A Planetary Parable as Told from Southern Africa (Duke University Press, 2019).
"In Dr. Tamarkin's course, the reading follows a semester-long interrogation of theorizing race, power, materiality, economy, and temporality and caps off a unit focused on biopolitics (Michel Foucault) and necropolitics ajulie lis theorized by Achille Mbembe. Dr. Thomas's course grounded the study of psychoanalysis through scholarship on temporality, contemporary crisis, posthumanism, and planetary spatiality."
To learn more about this unique experience, Julie Livingston's book, and the Livable Futures network, visit the link below!
---