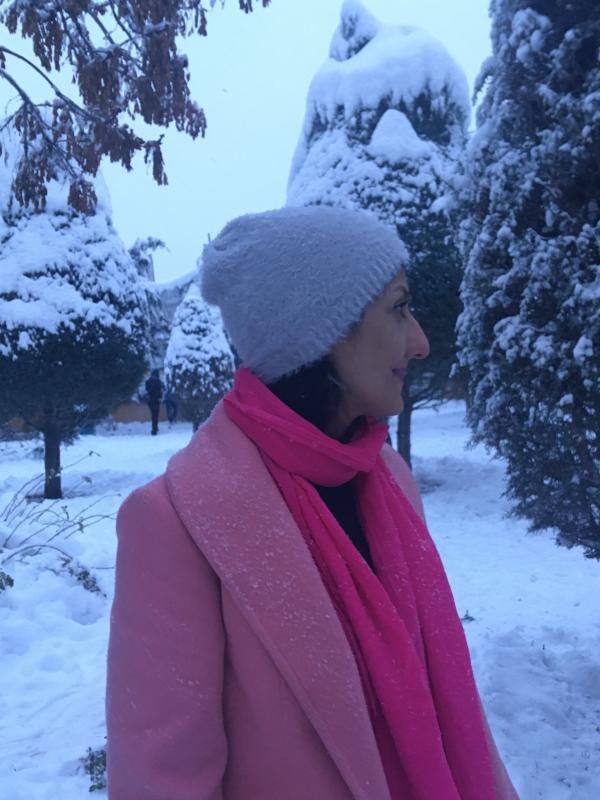 Zahra Abedinezhad
Ph.D. Candidate in Comparative Studies & Folklore, Graduate Research Associate
She/her/hers او
1775 S. College Rd
Columbus OH, 43210
Areas of Expertise
Iranian Traditions and Culture
Folklore and Styles of Dress in Iran
Narratives of Iranian Refugees in Diaspora
System of Law in Iran
Reconciliation and Restorative Justice
Community-based Policing
Education
Western Kentucky University, Folk Studies, Master of Arts, May 2020
Tarbiat Modares University, Criminal law and Criminology, Master, 2009
Shiraz University, Law, B.L., 2006
Zahra Abedinezhad is a Ph.D. candidate in Comparative Studies and Folklore at The Ohio State University. Having backgrounds in Law (TMU, Iran) and in Folk studies (WKU), she is interested in exploring intersections between religious practices and social regulations/codes. She is currently working on mourning performances of Iranian women. 
Selected Research Interests: Mourning, Karbala Paradigm, Women's Life and Culture, Comparative-Cultural Analysis.
Selected Publications
Abedinezhad-Mehrabadi, Z. (2022). Regimes of Happiness: Comparative and Historical Studies. Contemporary Sociology, 51(1), 42–43.
Abedinezhad, Zahra (2023). Layered Meanings of Resistance through Dress and Bodily Practices: A Case Study of Iranian Women, Western Folklore, 82.2:133-164 
Conference Presentations
Z. Abedinezhad, Through the Eyes of Mourners: Feelings and Beliefs of Iranian Women in Practices of the Month of Muharram, The annual meeting of American Folklore Society, 12-15 Oct. 2023, Tulsa.
Z. Abedinezhad, The Aesthetics of Self-Repression in Dress and Body Art among Middle-class Urban Iranian Men, Present at WSFS, April 2022
Z. Abedinezhad, What Counts as Singing in Public? Making Room for Women's Solo Singing in Iran, 151st annual meeting of American Folklore Society, 10/18/2021, Harrisburg, United States of America
Z. Abedinezhad, Fragmented Truths in Narratives of Converted Iranians in a Diaspora, the ASYFAIR conference 2021 'Adjudicating Refugee Claims in Practice - Advocacy and Experience at Asylum Court Appeals, presented on 06/30/2021. The United Kingdom.  
Z. Abedinezhad, Resistance and Reconciliation in the Shrine: The Role of Imamzadeh in the Reformulation of Iranian Vernacular Shiite Communities, 131st annual meeting of American Folklore Society, 10/19/2019, Baltimore, United States of America.
Selected Honors and Awards
The American Folklore Society, AFS Graduate Fieldwork Grant 2022-2023
The Iles Award for the Graduate Study of Myth, The Center for the Study of Religion, OSU, May 2022.
The Elli Köngäs-Maranda Prize, Women Section, American Folklore Society, the 2020 prize for the thesis chapter, "I Choose the Styles Which Are Both Traditional and Artistic": Iranian Women's Ways of Dress, Received Dec 2021.
Outstanding Graduate Student Award, Potter College of Arts & Letters, 2019-2020.
Elaine J. Lawless Travel Award for Graduate Students, Folk Belief and Religious Folklife Section of American Folklore Society, April 2019.
Graduate Student Research Grant, Western Kentucky University, for the Research Project Experiences of Iranian Immigrant Women Living in the U.S., April-November 2019.
Scholarship for Master's Program, Iranian Scholarship Foundation, January 2019- January 2020.
Cooperative fieldwork Project, Women Owning Woodland: Southeast Ohio, Center for Folklore Studies, Jan 2021-May 2021. https://cfs.osu.edu/archives/collections/ohio-field-school/women-owning-woodlands-southeast-ohio 
A member of the festival production team in: 
Teaching Record 
Instructor, Comparative Studies Department, the Ohio State University, Introduction to Folklore COMPSTD 2350-001 (24157) and ENGLISH 2270-0010 (27341), August 2022- May 2023.