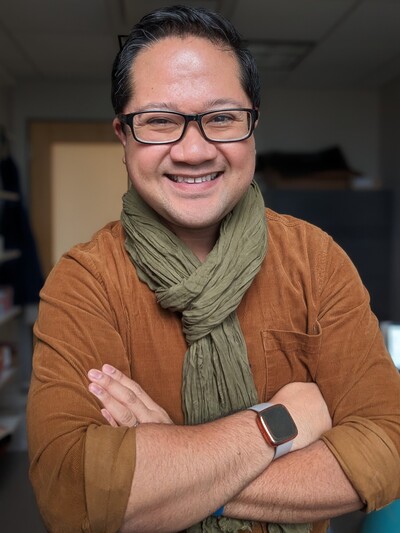 Mark Anthony Arceño
Academic Program Coordinator
he/him/his
444 Hagerty Hall
1775 S. College Road
Columbus, OH 43210
Areas of Expertise
Cultural theory
Food, place, and identity
Multisensory ethnography
Social-ecological systems
Education
M.A., anthropology, The Ohio State University
B.A., French and international studies (sub-Saharan Africa), Albion College
Mark Anthony Arceño is a food and environmental anthropologist and a Ph.D. candidate in the Department of Anthropology. Mark Anthony's recently defended dissertation, "Changing (Vitivini) Cultures in Central Ohio, USA, and Alsace, Eastern France: A Comparative Study of Terroir and the Taste of Place," includes article chapters that have been published in Anthropology of Food and Practicing Anthropology. Mark Anthony previously completed his M.A. thesis at Ohio State, "On Consuming and Constructing Material and Symbolic Culture: An Anthropology of Pictorial Representations of Food-Based Dietary Guidelines (FBDGs)," and his B.A. Honors thesis at Albion College, "Monolingualism and Catholic South African Multiethnolinguistic Identity." He has also taught in the Department of Anthropology ("Introduction to Cultural Anthropology" and "Crisis! An Anthropological Perspective of Global Issues") and, while a student at Albion, studied abroad as part of the Boston University Paris Internship Program and the School for International Training: Multiculturalism and Social Change program in Cape Town, South Africa.
Prior to his arrival at Ohio State, Mark Anthony worked at Denison University as its first Program Coordinator in the Office of Multicultural Student Affairs, where among his many roles and responsibilities he served on multiple interdepartmental committees; mentored, supervised, and advocated for students and cultural affinity groups; and created and coordinated food and culture programming throughout the campus. 
Currently, Mark Anthony serves as the Chapter Leader of Slow Food Columbus, the Lecture Series Team Leader of the Ohio State Anthropology Public Outreach Program, and the editor-in-chief of the Culture & Agriculture Sensorium.