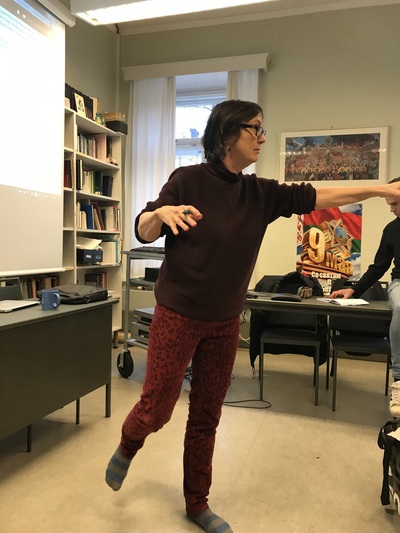 Katherine Borland
Professor & Director of the Center for Folklore Studies
434 Hagerty Hall
1775 College Road South
Columbus, OH
43210
Office Hours
Mondays 1-2 PM for Autumn 2020
Areas of Expertise
Latin American Folklore
Traditional Narrative
Collaborative Ethnography
Festival
Immigration and Solidarity Activism
Development Theory
Folklore
Post-colonial (World) Literature
Experiential Education
Women's Oral Narrative
Dance
Volunteerism
Education
Ph.D. Indiana University
M.A. Temple University, English and the Teaching of Writing
Katherine Borland is the Director and Graduate Studies Advisor at the Center for Folklore Studies, and Associate Professor in the Department of Comparative Studies. 
She studies and teaches about the artfulness of ordinary life, and the ways in which traditional expressive arenas constitute contested terrain. In 2013, she published International Volunteer Tourism: Critical Reflections on Good Works in Central America (co-edited with Abigail E. Adams, Palgrave).  Subsequently, she has published a number of essays on a range of subjects in narrative research, service-learning models, diverse environmentalism, and interrogating race in folklore and in the folklore classroom. 
In her teaching she works to develop and hone student's interpretive, synthesizing and analytic skills through shared inquiry, team research and writing.  She is a passionate advocate of both experiential and discussion-based pedagogies.
Research & Project Links
Interview with Beatrice Hanson (12/1986) by Katherine Borland. The audiofile reproduces the racetrack story upon which the article, "'That's Not What I Said': Interpretive Conflict in Oral Narrative Research," is based [Women's Words: The Feminist Practice of Oral History, pp. 63-76.  Eds. Sherna Berger Gluck and Daphne Patai.  New York: Routledge, 1992].  A transcript of the narrative is available in "Horsing Around with the Frame: The Negotiation of Meaning in Women's Verbal Performance," Praxis (Spring 1990): 83-107.  
https://u.osu.edu/bethestreet/ Be the Street is a Performance Studies Project, originally on human mobility and placemaking.  Now entering it's fourth and final year, the project is exploring how training in theatre-based pedagogy can assist grassroots community workers in building cohorts and coalitions across the city of Columbus. Researchers Borland and Moriah Flagler are experimentally constructing ethical exit strategies for University-Community collaborations. 
For more information: https://cfs.osu.edu/people/borland-19
Selected publications
Sugar Cane Alley: Teaching the Concept of "Group" from a Critical Folkloristics Perspective. In Critical Folkloristics: Critical and Ethical Approaches for the 21stCentury. Eds. Solimar Otero and Mintzi Auanda Martínez-Rivera. Bloomington: Indiana University Press, 2021.

Co-written with Amy Shuman. After Charlottesville: Using Counter Narrative to Protect a White Heritage Discourse. In Dimensions of Counter-Narratives,339-352. Ed. Klarissa Lueg. New York: Routledge, 2020.

'That's Not What I Said': A Reprise After 25 Years. In Beyond Women's Words: ThePersonal, Political, and Ethical Challenges of Doing Feminist Oral History, 31-37. Eds. Katrina Srigley, Stacey Zembrzycki, and Franca Iacovetta. Oxford Univ. Press, 2018.

Traditions of Resistance, Expressions of Solidarity and the Honduran Coup. In The Art of Empathy: Visual and Performative Cultures of Transnational Solidarity in the Americas, 53-80. Eds. Jessica Stites Mor and Maria del Carmen Suescun Pozas. University of Texas Press, 2018.  Contrasts the representations of political struggle by activists in a local context with those by activists positioning themselves in solidarity with movements unfolding elsewhere.

 Special Issue of the Journal of American Folklore: Family Folklore 130(518) 2017. With an introduction by Katherine Borland, Patricia Sawin and Diane Tye, includes essays on Intersubjectivity (Borland), Adopted Family Stories (Sawin), Brother-Sister distinctions in family experience and narration (Tye), and family encounters with the Holocaust (Lichman). 

Exotic Identities: Dance, Difference and Self-Fashioning.  Co-written with Sheila Bock. Journal of Folklore Research  48 (1) 2011:1-36.  Explores the practices of embodying an other to explore/construct the self. 
Cosmopolitans in Ohio Face a Troubled World.  Proceedings of the Congress of the Latin American Studies Association. 2010.  Documents the emergence and increasing popularity of voluntourism and critiques its idealist intentions.
Special Issue of the Journal of American Folklore: Latin American Dance in Transnational Contexts, 122 (486) 2009.  With an introduction by Sydney Hutchinson, includes essays on Purepecha Courtship (Joyce Bishop), Aztec Dancers at North American Powwows (Sandy Garner), Argentinian Tango (Ana Cara) and New Jersey Salsa (Katherine Borland)
Unmasking Class, Gender and Sexuality in Nicaraguan Festival. Univ. of Arizona Press. 2006. A study of the politics of culture in Masaya's Fiesta de San Jerónimo and related cultural performances during the Somoza, Sandinista and Neoliberal eras.