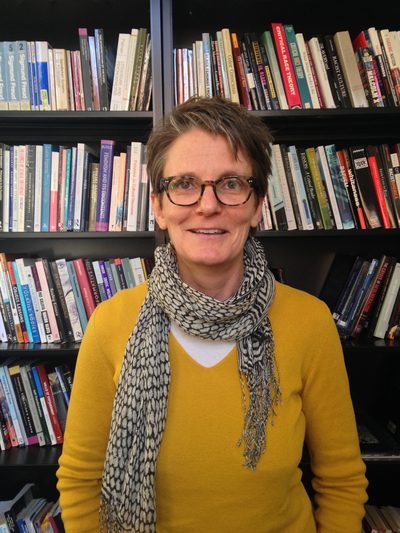 Shannon Winnubst
Associate Professor, Department of Women's, Gender, and Sexuality Studies
Areas of Expertise
Twentieth Century French Theory
Queer Theory
Race Theory and Feminist Theory
Education
Ph.D. Pennsylvania State University
M.A. Pennsylvania State University
B.A. University of Notre Dame
My current work inquires into the conceptual transformations of social difference and ethics underway in the social rationality of neoliberalism, especially as diagnosed by Foucault in his 1979 lectures.  Recent and forthcoming publications related to this work include:
Foucault Studies Special Edition, "Foucault and Queer Theory," edited with Jana Sawicki (14) Autumn 2012
"The Queer Thing about Neoliberal Pleasure: A Foucauldian Warning," Foucault Studies: Foucault and Queer Theory (14) 2012, 79-97
"The Missing Link: Homo Economicus (Reading Foucault and Bataille Together),"Blackwell Companion to Foucault, eds. Chris Falzon, Timothy O'Leary and Jana Sawicki (Blackwell: 2013)
"Sacrifice as Ethics: The Strange Religiosity of Neoliberalism," in Negative Ecstasies: Georges Bataille and the Study of Religion, eds. Kent L. Brintnall and Jeremy Biles (under review)
I am also the co-editor, with Lynne Huffer at Emory, of philoSOPHIA: A Journal of Continental Feminism.  http://www.sunypress.edu/t-Journals.aspx
Older selected publications focusing on specific themes and intersections in the fields of queer theory, race theory, feminist theory, and twentieth century French theory include:
Queering Freedom (Indiana UP: 2006)
Reading Bataille Now, Editor (Indiana UP: 2006)  (2007 Choice Outstanding Title)
Review of Rodolphe Gasché's Georges Bataille: Phenomenology and Phantasmatology (Stanford: 2012), Notre Dame Philosophical Reviews
"Temporality in Queer Theory and Continental Philosophy," Philosophy Compass, 5 (2) 2010, 136-146
"What if the law is written in a porno book?" Gilles Deleuze: The Intensive Reduction, ed. Constantin Boundas (Continuum Press: 2009)
"Is the Mirror Racist? Interrogating the Space of Whiteness," Philosophy & Social Criticism (30: 1) Winter 2004: 25-50.
"Vampires, Anxieties and Dreams: Race and Sex in the Contemporary United States," Hypatia: A Journal of Feminist Philosophy(18:3) Fall 2003: 1-20.
"Exceeding Hegel and Lacan: Different Fields of Pleasure Within Foucault and Irigaray," Hypatia: A Journal of Feminist Philosophy (14:1) Winter 1999: 13-37.