April 24, 2022
#bakersforUkraine Webinar Recording Now Available
Image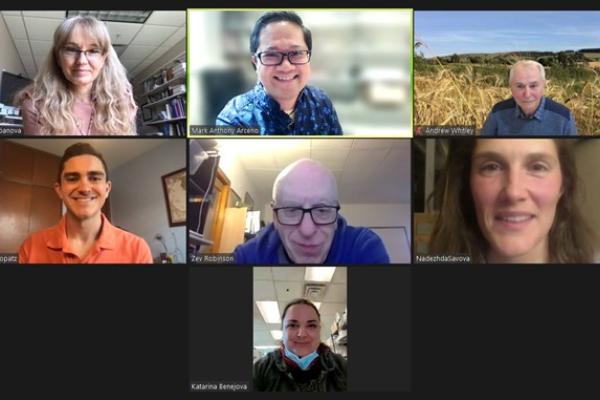 Description
On Tuesday, March 29th, the Department of Comparative Studies and the Ohio State Center for Slavic, East European and Eurasian Studies co-hosted a webinar panel discussion of Canadian-British artist and filmmaker Zev Robinson's documentary Real Bread Bakers. 
The discussion was moderated by our Department's Academic Program Coordinator and Chapter Leader of Slow Food Columbus Dr. Mark Anthony Arceño. And our panelists included Andrew Whitley of Scotland the Bread; Dr. Nadezhda Savova-Grigorova of Bread Houses Networks; Dr. Larysa Stepanova of the Ohio State Department of Slavic and East European Languages and Cultures; Philip Kopatz of "Ukraine Unlocked"; and Real Bread Bakers filmmaker Zev Robinson. You can check out the webinar recording here or below, which includes an overview of #BakersforUkraine by one of its co-hosts Katarína Benejová of the Ohio State Wexner Medical Center:
For Ohio State-affiliated individuals (students, faculty, staff, etc.), Real Bread Bakers is available for a limited time to watch for free. Please contact Mark Anthony Arceño(.1) as soon as possible to receive a viewing link and code.
The four main humanitarian organizations supported by #BakersforUkraine are Save the Children, Kto Pomoze Ukrajine?, World Central Kitchen, and USA for UNHCR. For logistical reasons, funds raised through prior viewings of Real Bread Bakers in association with the webinar panel discussion, as well as additional donations, were equally distributed among the first three and the UK branch supporting UNHCR efforts. (After deducting associated fees and video hosting costs, this totalled $640.) We thank everyone for their contributions to this global fundraising effort! Click each organization to learn more about what each organization is doing to help in the region.
---